Digital Pathways Programme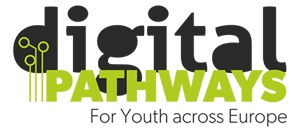 The Digital Pathways Programme is the main outcome of the project and consists of: a set of learning modules, a set of 'taster sessions' and a set of digital artefacts. The structure allows young people to work together and develop digital skills in areas such as film making, game development, animation and social media. During these 'taster sessions' they have a chance to explore some specific areas of digital media, as well as engage with people from across the digital media industry. In this way, young people can link their 'fun' out-of-school activities with the real world of work.
The modules included in the Programme cover eight topics:
Introduction and Teambuilding
Film
Digital Image Editing
Stop Motion Animation
2D Animation
Sound
Social Media
Game Making
In addition, the tutors developed a set of session plans to accompany each module. For example, The Film Module consisted of four sessions, while the Stop Motion Animation Module consisted of two sessions. The Module descriptors contain high level overview of how long the module should be and what young people should be able to do at the end of the module.
Digital Pathways Programme (English) in PDF format
Digital Pathways Programme (German) in PDF format
Digital Pathways Programme (Polish) in PDF format
A set of digital artefacts created by the young participants of the Digital Pathways Programme from Ireland, Germany and Poland can be viewed in the Digital Artefacts Repository